COMMISSION A PAINTING or PORTRAIT

A commission is an original work of art custom ordered and created specifically for the client using their concept idea and personal collection of photographs. The result is a one of a kind heirloom, produced either as an oil on canvas or a digital painting where multiple reproductions are available for family and friends. Kathryn Rutherford paintings and portraits are in private collections in seventeen countries throughout the world.

Guardians of Headrick Chapel ©2004 Kathryn Rutherford
BEST OF SHOW-Award of Distinction
12th Sevier County Biennial Juried Exhibition


CLICK HERE
to learn about the
Headrick Chapel Project
REQUIREMENTS
Good quality reference photographs are needed and may be delivered in person, through the mail, on CD, flashdrive, or email. Any size photograph may be submitted, but higher resolution digital images and larger print images are best. All photographs are reference material ONLY and are returned undamaged to the client.
Spirit Paintings and Portraits combine photographic images, but use imagination and talent to produce a new vision, therefore, subjects in the original photographs may appear in groups, casual dress, or in front of any background. Clothing, poses, and backgrounds can be changed to suit the composition and story being told. Send what you have or take new photographs and let the artistic magick begin!
PLEASE NOTE: Faces will NOT be altered. Heads may be changed from left to right, up or down, but it is impossible to combine the eyes of one photograph, the ears of another, and the nose of yet another photograph and expect the person to look like him/herself. Similarly, parents be advised, it is a physical impossibility to portray children with the outgoing smile seen in one photograph and those dreamy, wide eyes they show in another photo at the same time. Big, wide grins means squinty eyes.
TIME
Paintings and Portraits require three to six weeks to complete once the concept and layout have been approved and written authorization and deposit have been received. If a commission is required by a certain deadline, be sure to make this information known. Every attempt is made to meet all deadlines whenever possible.
DEPOSIT
50% non-refundable deposit is due prior to beginning any commission. The balance is due upon completion accompanied by written acceptance of the painting. Paintings and any additional prints are shipped when final payment is received and clears the bank. Payment may be cash, cheque, credit card, or Paypal.
INSTALLMENT PLAN
Investing in fine art is made easier by making payments. Pay the deposit and balance over time, keeping in mind that paintings are not begun until the deposit is paid in full and paintings are not shipped until the balance is paid in full. Restrictions may apply.
SATISFACTION
Every attempt is made to meet, or exceed, 100% of client expectations. Familiarize yourself with the artistic style of Kathryn Rutherford and allow her be creative.
COPYRIGHT
Commission fees, listed below, are for personal ownership of a painting. Kathryn Rutherford and Heirloom Art Studio retain all copyrights to original art. Commissioning a painting does not give clients the right to reproduce or sell their commissioned painting in any format, however, if your commission is for a business project, such as book illustrations, trademark, fund-raising etc. clients may contact the artist to discuss entering into a Joint Copyright Agreement.
OIL PAINTING OR DIGITAL PAINTING?
Oil paintings are full brush paintings painted by hand on canvas that has been stretched on wooden stretcher bars just as artists have been creating original fine art for centuries.
Digital paintings are handpainted on the computer using a drawing tablet and digital paint brushes in software such as Photoshop and Painter. Although digital paintings tend to have a more chalk or watercolour look, each one is painted by hand with skill and technique. No buttons are pushed, or filters applied to photographs to produce these destinctive works of Kathryn Rutherford Fine Art.
OIL PAINTINGS

DIGITAL PAINTINGS


"BEST OF SHOW"
Private Collection of
American Kennel Club
New York City



"This portrait is beautiful...
You have captured Maya's personality dead on!
Thank you, Thank you!"
Kathy Hazelwood
FEES
Paintings and Portraits are priced by size, subject, or technique and come with signed Certificates of Authenticity.
SPIRIT PAINTINGS and MASTERPIECE PAINTINGS IN OIL
The finest investment in one of a kind, custom ordered original fine art oil paintings on stretched canvas created specifically for you and your storytelling needs.
Up to six subjects included.
Additional subjects and extreme details-add up to 35% extra.
Framing, Shipping, Insurance and Sales Tax extra.
| | | | | | |
| --- | --- | --- | --- | --- | --- |
| 60 x 90 | 40 x 60 | 30 x 40 | 24 x 30 | 20 x 24 | 16 x 20 |
| $10,000 | $8,000 | $6,500 | $5,500 | $4,500 | $4,200 |
GALLERY PORTRAITS IN OIL
Exquisite hand painted portraits in oil, of up to two subjects, on stretched canvas.
Three or more subjects by Quote Only.
Animals are priced as people.
Extensive background details-add up to 35% extra.
Framing, Shipping, Insurance and Sales Tax extra.
60 x 90
Lifesize
Adult
Full Length

40 x 60
Lifesize
Adult
3/4 Length

40 x 60
Lifesize
Child
Full Length

30 x 40
Lifesize
Child
3/4 Length

24 x 30
Lifesize
Adult
Waist Up

20 x 24
Lifesize Adult
Head and
Shoulders

16 x 20
Lifesize
Child
Head and Shoulders

$7,000

$6,000

$5,000

$4,200

$3,850

$3,300

$2,900
DIGITAL PAINTINGS AND PORTRAITS
When the primary consideration for purchasing original fine art and portraiture is cost, Digital Painting allows the client to order the same creative, original art and skillful hand painted details of a full brush oil painting, but produced as a digital print on photographic or watercolour paper. Each painting is hand drawn using a drawing tablet and digital paint brushes and displays the same creative skill as an oil painting.
Extensive subjects and extreme details-add up to 35% extra.
Stretched canvas available at additional cost.
Framing, Shipping, Insurance and Sales Tax extra.
**Price includes creative artwork and first print. Additional prints are extra.
| | | | |
| --- | --- | --- | --- |
| | 24 x 30 | 20 x 24 | 16 x 20 |
| Digital Fine Art Painting | $795 | $775 | $750 |
| Digital Portrait | $495 | $475 | $450 |
| Additional Prints | $175 | $125 | $95 |
Become a Patron of the Arts!
Click HERE to begin a conversation about turning your story into a work of original fine art!
and
be sure to order portraits of all family members!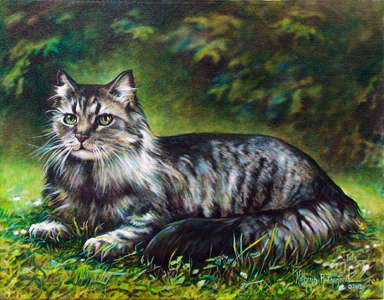 Tails Rutherford
©2017 All Rights Reserved. No Image may be reproduced from this website
in any form without written permission from Kathryn Rutherford-Heirloom Art Studio.